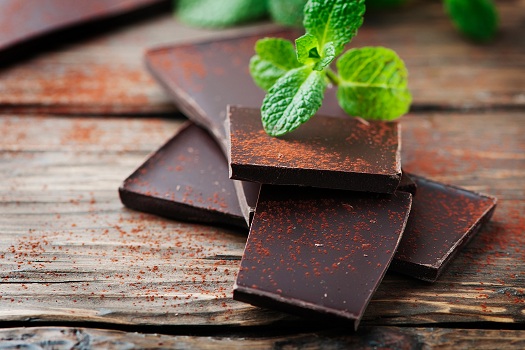 Chocolate isn't generally thought of as a healthy food, but seniors and their families may be surprised to learn that dark chocolate, when eaten in moderation, can be a healthy treat for people over 65. Here are some of the major benefits your senior loved one can gain from eating dark chocolate. 
1. Protects the Skin
Developing skin cancer is a big risk for seniors. In addition to wearing sunscreen when going outdoors, your loved one should consider eating dark chocolate as a snack. Dark chocolate contains flavanols, plant-based substances that can increase blood flow to the skin and reduce the negative effects of UV rays. 
2. Boosts Mood
Dark chocolate can also be good for emotional health because it's known as a natural mood enhancer. It contains phenylethylamine, a chemical that causes endorphins to be released into the bloodstream, which produces positive feelings and pleasure. 
3. Reduces the Risk of Alzheimer's
Many seniors develop Alzheimer's each year. However, there may be a link between eating dark chocolate and a lower risk of developing the disease. The flavanols found in dark chocolate increase blood flow to the brain, which can boost your loved one's cognitive abilities. 
If your loved one has been diagnosed with Alzheimer's, compassionate help is just a phone call away. Alzheimer's can be challenging for seniors to manage without assistance, and it can be just as challenging for families who don't have experience in providing Alzheimer's care. Clearwater Home Care Assistance provides Alzheimer's care seniors and their families can depend on. Our proprietary Cognitive Therapeutics Method was designed to help seniors with Alzheimer's and other memory-related conditions live happier and healthier lives.
4. Enhances Heart Health
Eating dark chocolate has also been linked to a reduced risk of heart disease. The plant-based chemicals in dark chocolate naturally lower the amount of harmful LDL cholesterol in the blood. Dark chocolate can lower blood pressure as well. 
A professional caregiver can be a wonderful source of support and information when it comes to helping your loved one get proper nutrition. Maintaining a high quality of life can be challenging for some seniors, but professional caregivers can help them obtain this goal. Families can trust Clearwater senior home care experts to help their elderly loved ones focus on lifestyle choices that increase the chances of living a longer and healthier life.
5. Raises Good Cholesterol Levels
Not all cholesterol is bad. HDL cholesterol actually removes bad cholesterol and can help the heart remain healthy. Dark chocolate actually increases HDL cholesterol concentration, which means your loved one can enjoy this sweet treat in moderation. 
A trained professional caregiver can be an ideal resource when you're trying to help your parent lead a healthier lifestyle. Not every senior has the same care needs, which means they don't all need the same type of at-home care. You can rely on Home Care Assistance to provide an individualized care plan to meet your elderly loved one's unique care needs. Our holistic Balanced Care Method was designed to help seniors focus on healthy lifestyle habits, such as eating nutritious foods, exercising regularly, and maintaining strong social ties, and our Cognitive Therapeutics Method offers mentally stimulating activities that can stave off cognitive decline and delay the onset of dementia. For reliable in-home care services, contact us at (727) 330-7862 today.