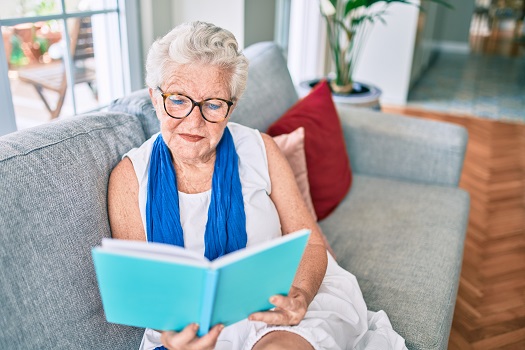 Reading has been one of the world's favorite pastimes for centuries, but there's more to this hobby than having fun. People of all ages can reap several benefits from reading, and this is especially true for seniors. Thanks to advances in technology, books with large print, and special reading lights, issues like poor eyesight or limited access to reading material are no longer barriers that keep older adults from being able to enjoy reading. Encourage your loved one to pick up a book or magazine for the following reasons. 
1. Increase Awareness
Seniors tend to feel isolated from the rest of the world. They don't necessarily have ways to keep up with current events and pop culture like their children and grandchildren do, which can lead to feelings of loneliness and depression. Reading is a great way to learn about what's going on in the world, whether it's a novel set in current times, a newspaper, a magazine, or a nonfiction book about current events.
Some seniors need assistance with going to the library, attending book club meetings, or managing other daily tasks, and they can benefit from professional in-home care. When searching for reliable elderly home care agencies, families want to know their senior loved ones will be well taken care of. At Home Care Assistance, our expertly trained caregivers are available around the clock to assist with tasks around the house, provide transportation to medical appointments and social events, and much more.
2. Boost Memory
The brain needs regular exercise to function properly. The more seniors have to memorize, the more they challenge their minds. When your loved one reads, he or she must keep up with plots, characters, names, places, and other details. 
3. Boost Cognitive Health
Reading can keep memory-related diseases like dementia and Alzheimer's at bay. Mental stimulation is also thought to prevent these diseases from advancing quickly. Encourage your loved one to read books that challenge his or her mind, especially if cognitive decline runs in the family.
Whether your loved one needs assistance with reading and making other healthy lifestyle choices or you need a break from your caregiving duties, consider hiring a professional caregiver. Clearwater respite care professionals can assist seniors with a wide array of daily tasks, offering family caregivers the chance to focus on other personal responsibilities or take a break to prevent burnout. Whether it's for a few hours a day or a few days a week, respite care is the perfect solution for family caregivers who are feeling overwhelmed.
4. Promote Self-Confidence
Reading a book can make your loved one feel better about him or herself. Completing a book provides a sense of accomplishment, and your loved one is likely to learn new vocabulary words and concepts as well. The more knowledge seniors have, the more confident they generally are. People who learn from what they read tend to be well-spoken and may even have an easier time carrying on conversations. The confidence built from reading could even enhance your loved one's social life. 
5. Reduce Stress
Your loved one may have several stressful things to think about each day, such as fears about the future, finances, changes in health, and losing independence. Stress can lead to several health conditions, but reading can alleviate some of the stresses of life. When too much stress builds up, a senior can simply grab a novel and get lost in the author's world. Reading is also a great excuse to sit back and enjoy some peace and quiet. 
Reading regularly is just one of many ways seniors can address some of the challenges of aging and maintain a high quality of life. Clearwater homecare professionals can be a wonderful boon to seniors. Whether they require around-the-clock supervision or just need assistance with exercise and household tasks a few days a week, seniors can enjoy a higher quality of life with the help of trusted in-home caregivers. Call Home Care Assistance at (727) 330-7862 to learn more about our flexible and customizable senior care plans.