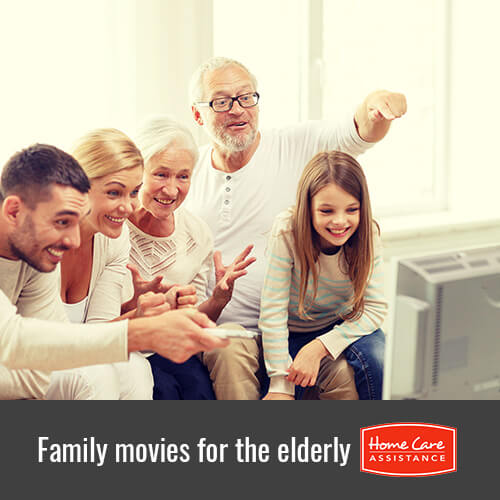 Thanksgiving typically begins with watching holiday parades and progresses to the bevy of football games as family members prepare for a bountiful feast. In the evening, once the family is filled with the delights of a traditional meal, seniors and their Palm Harbor at-home caregivers can gather to enjoy one or more of these family-favorite flicks. 
1. Garfield's Thanksgiving
Angry at having been put on a diet, grouchy Garfield determines to get vengeance against John and his lady vet friend by disrupting the couple's Thanksgiving Day plans. However, the pudgy cat soon feels remorse and endeavors to save the day. 
2. Grumpy Old Men
Jack Lemmon and Walter Matthau star as two older elderly bachelors engaged in a decades-long comedic feud. Their adult children arrive home for the holidays and attempt to bring peace between the two neighbors. However, an attractive widow moves in across the street, which adds fuel to the fire as each male vies for her attention. 
3. An Old-Fashioned Thanksgiving
Based on a story written by Louisa May Alcott, the tale involves a girl who contacts her wealthy grandmother as her destitute family makes plans for Thanksgiving. The woman arrives much to the dismay of her daughter. All go through the process of reconnecting and making a memorable holiday. 
4. Paul Blart: Mall Cop
Kevin James plays widower Paul Blart whose mother and daughter express increasing concern about the fact that he remains single and alone for the holidays. However, on Black Friday, he discovers that a gang of hoodlums' plans to conduct a major heist at the mall that he patrols. With the help of fellow mall employees, Blart strives to bring justice, rescue his captive daughter and impress a new female kiosk owner. 
5. Tower Heist
A group of upscale apartment employees comprised of Ben Stiller and an all-star comedic cast lose everything due to the unscrupulous business dealings of multi-millionaire Alan Alda. The disgruntled group formulates a plan of vengeance, which involves breaking into the businessman's apartment during the Macy's Thanksgiving Day parade and gaining back their finances without getting caught. 
Make this Thanksgiving a memorable one for your senior loved one by enjoying a wholesome family-friendly movie together. You can learn about other holiday activities to enjoy with seniors by calling Home Care Assistance at (727) 330-7862 today. We provide flexible Home Care Clearwater seniors need to live active and social lives during their golden years.