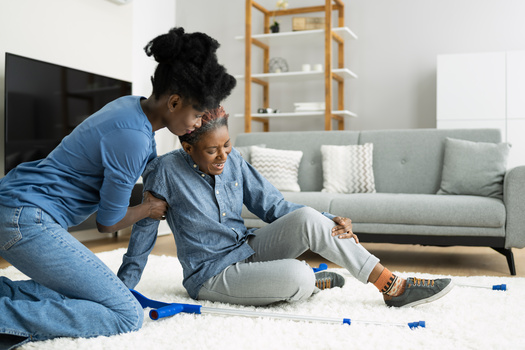 It's important to periodically review your senior loved one's care plan to check for potential hazards that could threaten his or her wellbeing. Although every senior's situation is different, there are certain safety issues that tend to arise when adults reach their golden years. Be alert for these safety hazards for seniors so you can keep your loved one safe. 
1. Walking on Slippery Floors
Falls are a leading cause of injury for seniors, but they're easily preventable. Place nonskid mats on floors exposed to water, such as in front of the sink and bathtub. Remove slippery rugs and create a clear walking space so your loved one is less likely to trip and fall. 
If your loved one needs help around the home to prevent injuries, consider hiring a caregiver. Many older adults are choosing to age in place, and some need a helping hand to continue living at home safely and comfortably. Luckily, there is professional homecare seniors can trust and rely on.
2. Taking Medication Incorrectly
Medication mishaps are another concern that sometimes gets overlooked. Make sure your loved one has a schedule posted near his or her medication, and you can even use a special dispenser to keep track of the doses. While this works for seniors in the early stages of the aging process, you may need to arrange for a professional caregiver to help with medication reminders if your loved one has severe memory loss. 
3. Getting Lost
Dementia and memory lapses may lead to wandering. Make sure your loved one always carries identification, and consider bringing another caregiver along to supervise him or her if your attention is diverted. 
4. Being Unable to Navigate Stairs
Limited mobility increases the risk of falling. Arrange for steps in your loved one's home to be replaced with safer options such as ramps. If your loved one must go upstairs, consider installing a stairlift that can help him or her reach higher levels of the house safely. 
5. Receiving a Cut or Burn while Cooking
A senior who has Parkinson's disease or another health condition that affects mobility may be at greater risk for getting cut or burned while preparing meals. Tremors or weak arm muscles make it more difficult to chop vegetables or carry a pot of hot food to the table. You can minimize this safety risk by giving your loved appliances such as a food chopper that keeps blades covered, or arrange for a caregiver to provide assistance with meal preparation. 
If your aging loved one needs occasional help with bathing, grooming, cooking, or other basic household tasks, or if you need time to attend to important personal matters, reach out to Home Care Assistance, a leading provider of live-in and respite care. Clearwater seniors can maintain their independence while living at home with the help of our reliable respite caregivers.
6. Falling for Scams Targeting Seniors
Criminals often try to take advantage of seniors' trusting nature. Watch out for financial scams, such as people claiming to be from an insurance company or bank, and keep your loved one informed of new scams that hit the news. It may also be helpful to appoint someone to watch over your loved one's finances for signs of fraud, such as a sudden drop in account balances. 
7. Failing to Shut Off Hot Appliances
A brief "senior moment" can lead to significant danger if your loved one forgets to shut off the stove. Install automatic shutoff systems on your loved one's major appliances, and make sure there are working fire and carbon monoxide alarm systems in his or her home.
8. Driving with Poor Vision or Hearing
Failing vision or hearing makes it more difficult to notice warning signals on the road. If your loved one has impaired vision or hearing, arrange for transportation services so he or she isn't tempted to try to drive to meet basic needs. 
Taking precautions can increase safety for seniors both inside and outside the home. Seniors can face a variety of challenges as they age, many of which can be mitigated with the help of professional in-home caregivers who provide high-quality elderly home care. Clearwater families trust Home Care Assistance to help their elderly loved ones age in place safely and comfortably. We will work with you to create a customized home care plan that's suited for your loved one's unique needs. Call the Home Care Assistance team at (727) 330-7862 today.