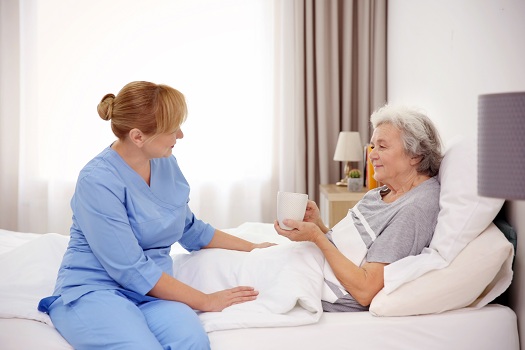 Pressure ulcers, also referred to as bedsores, are common in older adults who spend too much time lying down or sitting due to inactivity, recovery from illnesses or injuries, or other health conditions. Aside from being irritating, bedsores can cause significant problems for older adults, especially frail seniors. Below are some ways family caregivers can help their elderly loved ones prevent bedsores.
1. Move Positions
If your loved one is confined to bed for most of the day, you need to find ways to move him or her around without causing pain or significant irritation. Repositioning your loved one every two hours during the day is one of the top ways to prevent pressure ulcers. Ask other family members for assistance when helping your loved one change positions to reduce the risk of injuring your loved one or yourself.
A professional caregiver can be a fantastic resource when you need help lifting and repositioning your loved one. If your senior loved one needs professional in-home care, Home Care Assistance is here to help. We are a trusted provider of respite and 24-hour care, and we also offer specialized Alzheimer's, dementia, Parkinson's, and stroke care for seniors.
2. Maintain Good Skin Hygiene
Keeping the skin clean can prevent pressure ulcers. However, if your loved one is bedridden, taking a bath or shower as often as he or she would like could be difficult. Use a bucket filled with warm water and mild soap to clean your loved one's skin regularly. If you're not comfortable with grooming your parent, you can hire a professional in-home caregiver to help with bathing and other skin hygiene tasks that protect your loved one. Another tip that could prevent bedsores is to dry the skin properly after bathing and keep it moisturized.
Many seniors prefer aging in place over moving to assisted living facilities. If your senior loved one needs assistance to remain safe and comfortable while living at home, reach out to Home Care Assistance, a leading Clearwater elderly home care agency. Our dedicated in-home caregivers can assist with meal prep, bathing and grooming, exercise, medication reminders, and many other important tasks.
3. Promote a Healthy Diet
Seniors who are overweight have a higher risk of developing pressure ulcers than those who eat nutritious meals and snacks. Following a healthy diet can also help your loved one control his or her bowels. Poor bladder health and the inability to control bowel movements can increase the odds of bedsores. In addition to eating healthy fruits, vegetables, meats, plant-based options, and sugar-free or low-fat foods, your parent should drink adequate amounts of water each day.
4. Add More Cushions
By placing pillows or thick blankets on chairs and beds, you can reduce the amount of pressure on your loved one's body and stave off bedsores. Some caregivers use pillows and accessories that provide cushioning with gel, water, air, or foam. Prior to making a purchase, research the product to ensure it can decrease pressure while providing comfort to your loved one.
5. Encourage Exercise
Older adults can work out regularly, even if they're confined to bed or unable to stand for long periods and have to sit for most of the day. For instance, if your loved one cannot walk, swim, or ride a bike, he or she can do activities like arm lifts and other motion exercises in a bed or chair to prevent bedsores and keep him or her active. 
Being the primary caregiver for a loved one can be challenging, especially if you have other responsibilities. In Clearwater, respite care is a great help to many families. Caring for a senior loved one can be overwhelming at times, which puts family caregivers at risk for burnout. However, an in-home caregiver can take over your loved one's care, allowing you the time you need to focus on your own health, maintain a full-time job, or care for other members of your family. Rely on the professionals at Home Care Assistance to provide high-quality compassionate care for your loved one. Give us a call today at (727) 330-7862 to learn about our flexible in-home care plans.