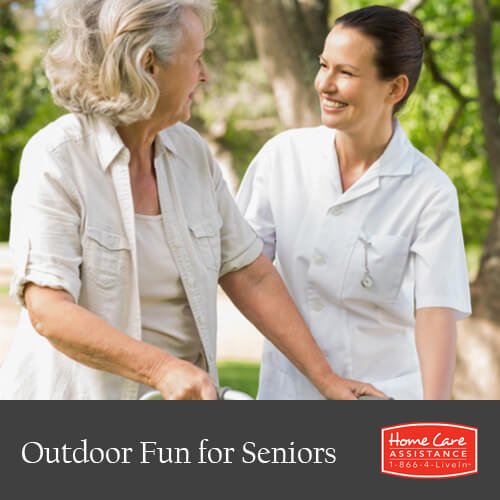 As people age, they often inadvertently adopt more sedentary behaviors and may withdrawal from the outdoors. However, participation in outdoor activities is vital to overall health and well-being. Being outdoors and participating in outdoor activities has a host of benefits including:
Vitamin D exposure: Sunlight is an excellent source of Vitamin D. Between five and 30 minutes of sunlight exposure each day has an incredible effect on the body. Vitamin D is useful in fighting conditions such as osteoporosis, cancer, depression and heart attacks.
Improved mood: Nothing boosts moods better than fresh air, sunshine and good company. Aging adults should enjoy spending time outdoors with friends, family or an hourly caregiver in Clearwater.
Exercise: Exercise is key at any age, but it's especially important as we grow older. Keeping fit increases independence, confidence and overall well-being. Seniors don't need to lift weights or run a marathon, simple daily outdoor activities will go a long way to increase health.
Suggested Activities
Are you in need of some fun senior-friendly activities to do with an aging parent or loved one? Our suggestion is to keep in simple, timely and to make sure it's something that your elderly loved one will be able to do on their own or with very minimal support. Start off small, doing something like a 10 minute walk around the block, to gauge their ability and comfort level and then work up from there. Here are some fun suggestions to get you started:
Yard games: Games such as horseshoes, ring toss, wiffle ball, and shuffleboard are some of the most beloved games and are all easy to play. Ask your aging parent what they would like to do and gather some family together for a fun-filled afternoon in the backyard.
Fishing: Many seniors enjoy a relaxing day of fishing and there is no shortage of places to do so in Tampa, Fl. A trip to the ocean or a local lake is a great family bonding experience that can be enjoyed by members of all ages.
Gardening: Tending to a garden is very relaxing and rewarding for many people. Gardens can be set up nearly anywhere, including patios and decks, and also provide a great source of daily exercise for seniors.
Photography: Trips to scenic areas with a camera are sure to get the creative juices flowing. Encourage your aging loved one to take photos and afterwards, you can help them develop the images and frame their favorites.
Hikes and walks: Nothing lifts the spirit and centers the mind like communing with nature. Some of the best hiking and walking routes for seniors in Tampa Bay include Flatwoods Park which offers paved paths and Bayshore Boulevard for a leisurely scenic stroll along the bay.
Outdoor activities should be fun, beneficial and safe. If you're worried about your aging parent venturing outside without accompaniment during the times when you can't be there, call Home Care Clearwater at 727-330-7862 to see how an hourly or 24/7 caregiver can help. We are happy to discuss your aging loved one's needs, conditions and lifestyle in order to create the most suitable care plan.