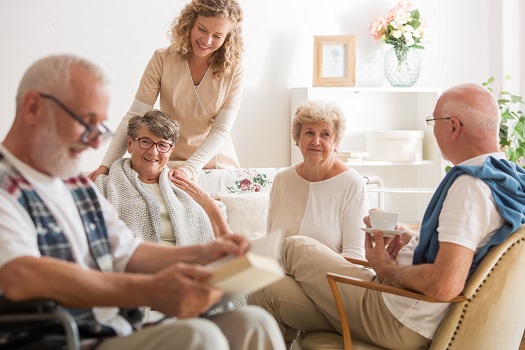 A healthy and happy older adult is one who is receiving well-balanced care that addresses both physical and mental health needs. However, it's often the mental and emotional needs of seniors that are unintentionally overlooked, since they aren't always as obvious or easy to identify. Below, you'll find some key facts about mental health and aging to keep in mind as you provide care for an older loved one.
1. Mental Health Issues Can Affect Healing & Recovery
Nearly seven million adults 65 and older live with depression, according to the National Council on Aging. Mental health issues of this nature can have an impact on how well seniors are able to heal and recover from prolonged illnesses or surgery. Stress, anxiety, depression, and similar issues can affect the body internally and contribute to slowed healing.
An in-home caregiver can monitor your loved one for changes in behavior and mood that may indicate a potential mental health issue. One of the most challenging tasks of helping an elderly relative age in place safely and comfortably is researching agencies that provide elder care. Clearwater families can turn to Home Care Assistance for reliable, high-quality in-home care for aging adults. We offer 24-hour live-in care for seniors who require extensive assistance, and we also offer respite care for family caregivers who need a break from their caregiving duties.
2. Mental Health Problems Aren't Normal for Older Adults
It's normal for seniors to occasionally be down or worried about various life circumstances. But lingering mental health difficulties, such as prolonged depression following the loss of a spouse that gets worse, aren't a normal part of aging. Be mindful of any uncharacteristic behaviors that suggest a professional assessment may be necessary.
3. An Aging Brain Can Still Be Stimulated
Just because your loved one is older doesn't mean he or she doesn't need regular mental stimulation. In fact, brain-friendly activities, which may include reading, learning new skills, working word or logic puzzles, and sharing stories and cherished memories with other family members, can help older adults remain cognitively sharp and mentally healthy.

Professional home caregivers can help seniors get high-quality cognitive stimulation in the comfort of home. Not every senior has the same care needs, which means they don't all need the same type of at-home care. You can rely on Home Care Assistance to provide individualized care plans to meet your elderly loved one's unique care needs. Our holistic Balanced Care Method was designed to help seniors focus on healthy lifestyle habits such as eating nutritious foods, exercising regularly, and maintaining strong social ties, and our Cognitive Therapeutics Method offers mentally stimulating activities that can stave off cognitive decline and delay the onset of dementia.
4. Social Interaction Is Good for Seniors' Mental Health
Loneliness is a common issue for older adults, often because of changes in mobility or familiar routines. Fortunately, efforts to encourage convenient and enjoyable ways to interact and socialize can offset loneliness, create a sense of purpose, and provide access to added support from friends and family members—all things that are good for mental health later in life.
5. Mental Health Issues Can Develop Later in Life
Don't assume your loved one won't have mental health issues because he or she has never had them before. There are many later-life factors that can contribute to mental health concerns for an older adult, including dementia, the effects of a stroke, and difficulty managing a chronic condition like arthritis or diabetes. Once again, this is why it's important to pay attention to any unusual changes in behavior.
6. Substance Abuse Can Affect Seniors' Mental Health
Psychiatric Times reports there have been dramatic increases in illicit and prescription drug misuse among older adults. American Family Physician also notes a third of older adults develop problems with alcohol later in life. Any type of substance abuse can have a significant impact on a senior's mental health.
7. Older Adults Can Respond Well to Treatment
Common treatments for mental health issues typically involve a combination of medication and various therapies. These are treatments that can work just as well for seniors as they do for younger adults with similar issues. Also, be aware that mental health problems often go undiagnosed in seniors, which makes it even more important to take steps to ensure your loved one is accurately diagnosed if there are reasons to suspect a mental health issue.
8. Seniors Have Some Unique Mental Health Issues
With older adults, some unique aspects of mental health should be kept in mind. For example, side effects associated with certain medications can negatively affect mood in seniors, as can drug interactions. Changes in body chemistry may even be a factor. Also, according to the National Institutes of Health, suicide rates tend to rise with age, which is yet another reason to be observant when spending time with your loved one.
A home caregiver can be a wonderful source of companionship, support, and encouragement for your loved one. If your senior loved one needs around-the-clock assistance at home, the Clearwater, FL, 24-hour care professionals at Home Care Assistance are here to help. Our proprietary Balanced Care Method was designed to promote longevity by encouraging seniors to focus on healthy eating, regular exercise, mental engagement, and other important lifestyle factors. We will work with you to create a customized home care plan that's suited for your loved one's unique needs. Call the Home Care Assistance team at (727) 330-7862 today.