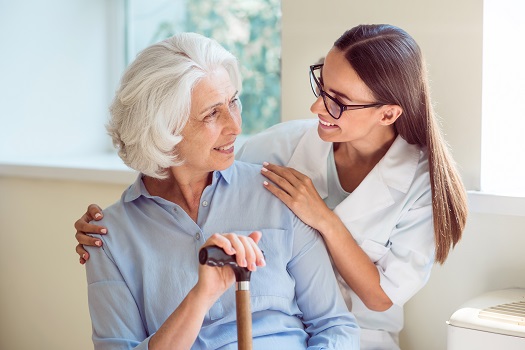 You've searched long and hard, and you've finally found the perfect caregiver for your senior loved one. The next step is preparing the home. With a few safety modifications, your house can become an ideal environment for your loved one and the new caregiver.
1. Choose a Room
Whether your parent is moving into your home or receiving care in his or her own residence, make sure the bedroom is equipped to handle his or her needs. If you're furnishing a room in your home, make sure it's accessible. Ideally, the room should be on the ground floor. Even if your loved one has no mobility issues at the moment, he or she may have difficulty climbing stairs in the future, and it's always best to think ahead. It's also helpful if the room is close to spaces like the bathroom and the kitchen. If your loved one needs to use the bathroom or get a glass of water in the middle of the night, close proximity makes it easier to get from one room to the next.
Living alone at home in the golden years can present a few unique challenges. Trust Clearwater home care professionals to help your senior loved one maintain a higher quality of life while he or she manages an illness and performs the daily tasks of living.
2. Maintain a Clean Environment
Before the new caregiver arrives, try to declutter your loved one's living environment. Pathways obstructed by junk, electrical cords, or oddly-shaped pieces of furniture can be hazardous to your loved one's safety. Make sure the new caregiver and your loved one have plenty of room to move, and get rid of anything that could cause a fall, ranging from unsecured rugs to unnecessary clutter.
Living independently is important for seniors who want to maintain a high quality of life. For some, this simply means receiving help with tasks that have become more challenging to manage over time. Even when families have the best intentions, they may not have the time to provide the care their elderly loved ones need and deserve. If your loved one needs help for a few hours a day or a few days a week, reach out to Home Care Assistance, a trusted provider of respite care Clearwater seniors can depend on.
3. Take Safety Precautions
By the time the caregiver arrives, your loved one's living space should be equipped with basic safety equipment, which is especially important for seniors with mobility issues, as the new caregiver will likely be assisting with personal tasks like bathing and dressing. In these situations, it's best to provide the equipment they both need to make the process go smoothly. In the bathroom, installing safety rails near the sink, bathtub, and toilet may be necessary. You may also want to invest in a shower chair or transfer bench for the bathtub. Depending on your loved one's mobility needs, consider installing grab bars in the bedroom and safety rails around the bed.
4. Get Organized
The new caregiver probably has preferred ways of doing things, ranging from medication management methods to the best ways to provide hygiene assistance. However, this doesn't mean you shouldn't get organized. Many seniors have difficulty accepting the fact they need daily care, and you should make this difficult transition easy for your loved one and the new caregiver. If all the caregiving essentials are organized and easy to access, the caregiver can spend less time shuffling through paperwork and medications and more time forming a bond with your loved one.
5. Ask the Caregiver for Suggestions
If you're not sure how to prepare your loved one's living space, don't be afraid to reach out to the new caregiver. He or she will be spending plenty of time in the space and may have suggestions for helpful home modifications and safety equipment. When you get the caregiver's input, you can rest assured that he or she will have everything needed to provide excellent care on the first day on the job.
Many seniors prefer aging in place over moving to an assisted living facility. If your senior loved one needs assistance to remain safe and comfortable while living at home, reach out to Home Care Assistance, a leading Clearwater senior care agency. Our dedicated in-home caregivers can assist with meal prep, bathing and grooming, exercise, medication reminders, and many other important tasks. Call one of our Care Managers at (727) 330-7862 to create a customized in-home care plan.