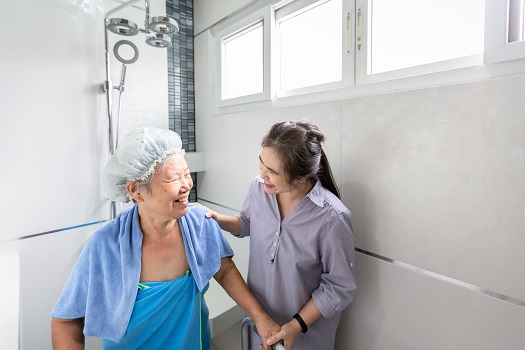 Personal care is one area of caregiving that can be physically and emotionally exhausting for caregivers. Most seniors eventually need some help getting dressed or bathing, and respecting your senior loved one's dignity is a high priority. These strategies can help you overcome the challenges that come with such a sensitive area of senior care.
1. Set Your Parent Up for Independence
Seniors can often manage some of their personal hygiene tasks as their abilities begin to decrease. Assess your loved one's current abilities to see what you can do to help him or her manage hygiene care independently. For instance, your parent may need a walk-in bathtub or a toilet that sits at just the right height. Bathing aids, such as long-armed brushes, can also help your loved one reach areas of the body for cleaning while he or she still has some limited mobility. Keep in mind you may still need to stay nearby in case your loved one faces difficulty with these tasks.
2. Encourage Your Loved One to Express His or Her Preferences
Eventually, your loved one may need more assistance with personal care. At this point, it's best to open up a dialogue that allows your loved one the dignity that comes from being able to make some of his or her own decisions. Ask your loved one how he or she prefers to receive assistance. Some seniors prefer to have professionals handle sensitive tasks so they can preserve their family relationships. Others might want caregivers of the same gender or caregivers who have personalities that make them feel more comfortable.
A professional caregiver can help your loved one with a variety of tasks at home, including maintaining good hygiene. When considering home care, Clearwater families should make sure their senior loved ones have the resources they need to maintain their independence and remain healthy. Trusted in-home care professionals can assist seniors with daily tasks like cooking, bathing, and exercise, and they can also encourage them to focus on healthier lifestyle habits
3. Provide Ways for Your Parent to Stay in Control
Having others give them baths or help them get dressed makes some seniors feel like they've lost an important part of their independence. This can be overcome by allowing them to make choices whenever possible. Something as simple as letting your loved one hold the towel over his or her body as a drape while getting help with a bath may make him or her feel more in control of the situation. Picking songs to listen to during bath time or choosing their clothing can also help seniors accept assistance.
4. Use Caution with Sensitive Skin
Senior skin is vulnerable to rashes, infections, and other injuries that cause discomfort. Your loved one's skin may also be looser, which means you need to carefully pay attention to cleaning around the skin folds. If you feel uncomfortable cleaning certain sensitive areas of your loved one's body, reach out to a professional caregiver. In-home caregivers are trained to use gentle techniques that prevent potential health problems.
If your elderly loved one needs help maintaining a high quality of life while aging in place, reach out to Home Care Assistance, a trusted provider of senior care. Our caregivers provide transportation to and from medical appointments and social events, nutritious meal preparation, assistance with daily exercise, and help with everyday tasks like bathing, grooming, and light housekeeping
5. Make Hygiene Care a Personal Service
Seniors sometimes refuse professional hygiene care out of a sense of pride. Your loved one might be more receptive to getting help with personal care if you make it feel more like a luxury service. A home caregiver can make personal services feel more special by doing things such as styling your loved one's hair after a bath. Making this feel more like a pampering service may get your loved one to comply with the need for hygiene care.
If you're the primary family caregiver for a senior loved one living in Clearwater, live-in care is available if your loved one's health has become too difficult to manage without professional expertise. At Home Care Assistance, we take measures to help seniors prevent illness and injury by assisting with exercise and mobility, preparing nutritious meals, helping with bathing and other personal hygiene tasks, and much more. Call us today at (727) 330-7862 to learn about our high-quality in-home care services.