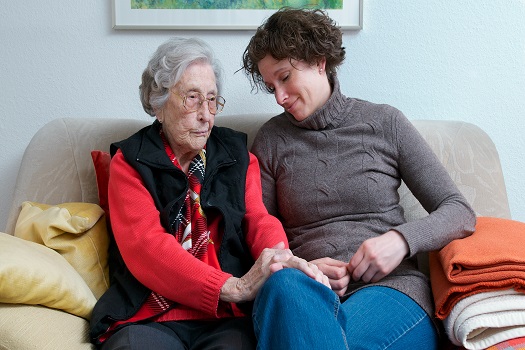 Being a caregiver for a senior loved one with dementia offers many joys and some challenges. On the bright side, it gives you a chance to maintain, develop, or reestablish a meaningful relationship with your loved one. However, there are times when you may need some assistance to effectively provide care in a way that's beneficial for both of you. Here are some tips to keep in mind as you seek the help you need as a dementia caregiver.
1. Talk to Your Loved One's Doctor
Your loved one's primary care physician can provide information about the type of dementia that's affecting your loved one. Talking to the doctor can help you develop a better understanding of the kind of assistance your loved one might need as the condition progresses. The doctor can also recommend local in-home care providers or direct you to other resources.
2. Use Medicare's Online Tool
This tool is handy if you need to find Medicare-certified home health agencies or care providers in your loved one's area. Using this tool to find assistance providers can also ease your loved one's stress about finances by reducing the potential for Medicare billing hassles.
Not every senior has the same care needs, which means they don't all need the same Clearwater Home Care. Families can rely on Home Care Assistance to provide individualized care plans to meet your elderly loved one's unique care needs. Our holistic Balanced Care Method was designed to help seniors focus on healthy lifestyle habits such as eating nutritious foods, exercising regularly, and maintaining strong social ties, and our Cognitive Therapeutics Method offers mentally stimulating activities that can stave off cognitive decline and delay the onset of dementia.
3. Get Other Family Members and Friends Involved
Caring for a loved one with dementia doesn't have to be a solo task. Reach out to other family members and friends if your loved one is at a point where he or she only needs occasional assistance with certain tasks. For instance, friends, neighbors, and other family members may be able to help with:
Providing transportation to doctors' appointments

Taking care of more demanding housework or yard work

Grocery shopping and other routine tasks
4. Use the Alzheimer's Helpline
If your loved one's dementia is related to Alzheimer's, you can use the Alzheimer's Association's 24-hour helpline. This is a good resource if you need to get general information, speak confidentially to someone about your loved one's situation, or find local programs and services. The number is (800) 272-3900.
5. Visit the Caregiver Space
The Caregiver Space is a website you can use as a go-to source for your own caregiver needs. It includes a top-notch blog with tips, advice, and suggestions. You'll also find an organizational tool kit, a journal space, and an assortment of links to other sources you can quickly access online.
Dementia can be challenging for seniors to manage, but they can maintain a higher quality of life with the help of professional dementia care. Clearwater seniors can benefit greatly from the Cognitive Therapeutics Method (CTM), an activities-based program designed to promote cognitive health and delay the onset of dementia. CTM is included at no additional charge with any of the in-home care plans provided by Home Care Assistance.
6. Join a Local/Online Support Group
You're not alone as a caregiver. In fact, more than 40 million Americans provide some type of unpaid care to an aging loved one. A great way to find help is to join an online or in-person support group specifically for caregivers. Doing so will give you a chance to get input from other individuals with similar responsibilities.
7. Turn to In-Home Care Services
Being a dementia caregiver can become more demanding over time, especially if your loved one has a progressive type of dementia. Therefore, another source of help to consider is in-home care. Professional assistance can be provided in the comfort of your loved one's own home. Taking advantage of this type of help can also give you a chance to get well-deserved breaks to focus on your own needs.
Seniors can face a variety of age-related challenges. Though some families choose to take on the caregiving duties, there may come a time when they need a trusted Clearwater in-home care provider. Families sometimes need respite from their duties so they can focus on their other responsibilities, and some seniors need around-the-clock assistance that their families are not able to provide. Home Care Assistance is here to help. For more information about our flexible, customizable home care plans, call one of our compassionate Care Managers today at (727) 330-7862.