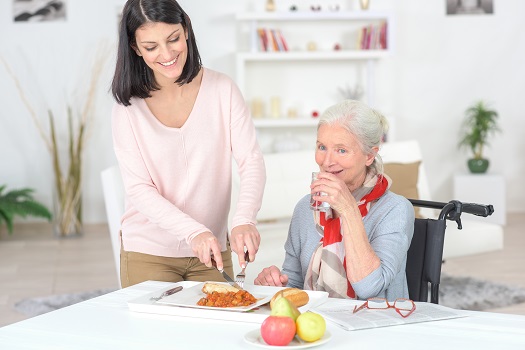 Getting a senior with Alzheimer's to eat can be a significant challenge for caregivers. As the disease progresses, it not only affects a person's ability to remember how to eat, but it also affects the senses that make it possible to enjoy the food. The following are techniques caregivers can use to stimulate their loved ones' appetite and encourage them to eat. 
Use Visual Contrast
Alzheimer's can affect the way the brain processes visual information. For example, yellow eggs can disappear on a yellow plate so your loved one doesn't see the food in front of him or her. Placing food on a plate of a contrasting color may make it easier to see. Warm colors such as red and orange tend to attract the eye and stimulate the appetite better than white, neutral, and cool tones. 
Some aging adults need motivation from caregivers to adopt wholesome eating habits and healthy lifestyles. If your elderly loved one needs help maintaining a high quality of life while aging in place, reach out to Home Care Assistance, a trusted provider of home care. Our caregivers provide transportation to and from medical appointments and social events, nutritious meal preparation, assistance with daily exercise, and help with everyday tasks like bathing, grooming, and light housekeeping.
Model Behavior
Eat with your loved one while sitting directly across from him or her. Engage your loved one with eye contact and a smile before starting to eat to encourage him or her to follow your example. Offer gentle prompts as needed, but try to keep conversation to a minimum, since it could distract your loved one from eating. 
Make Mealtime a Positive Experience
If possible, make your loved one a part of the meal preparation process by having him or her help with easily manageable tasks. Being a part of the process and seeing and smelling the food as it cooks can stimulate your loved one's appetite. If your loved one only takes a couple of bites or pushes the food around the plate, don't try to argue with him or her. This will only lead to frustration for both of you. The best approach is to try again later. 
The symptoms of Alzheimer's can make eating and other daily activities challenging for seniors. If your senior loved one has been diagnosed with a serious condition and needs help with tasks like meal prep, transportation, bathing, and grooming, reach out to Home Care Assistance, a leading provider of elderly home care Clearwater, FL, families can trust. We also offer comprehensive care for seniors with dementia, Alzheimer's, and Parkinson's.
Offer Limited Options
Seniors with Alzheimer's may have difficulty recognizing the various foods on a plate, or they may get distracted before they can finish a meal. Small snacks during the day that only contain a couple of foods are much easier to manage. When asking your loved one what he or she would like to eat, offer a choice between two food items.
Make Foods Easy to Eat & Texturally Pleasing
As Alzheimer's progresses, your loved one may not remember how to use basic utensils. Sandwiches, chicken strips, and other finger foods are often easier for individuals with Alzheimer's to manage. Adaptive dinnerware, such as partitioned plates with lids and utensils with built-up handles, can also increase food intake. Alzheimer's can also affect how your loved one perceives the texture of food. For example, your loved one may suddenly dislike foods that are soft and mushy, so you may have to adapt meals accordingly. 
Alzheimer's can be challenging for seniors to manage without assistance, and it can be just as challenging for families who don't have experience in providing Alzheimer's care. Clearwater Home Care Assistance provides Alzheimer's care seniors and their families can depend on. Our proprietary Cognitive Therapeutics Method was designed to help seniors with Alzheimer's and other memory-related conditions live happier and healthier lives. To hire a dedicated caregiver, call Home Care Assistance at (727) 330-7862 today.