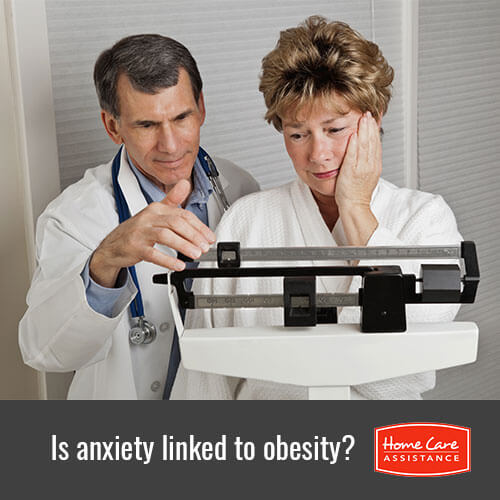 At first, anxiety may strictly seem like a mental disorder that does not have any effect on whether or not a senior is at a healthy weight. However, both anxiety and obesity are frequent issues among the elderly population, and the two subjects are actually closely related. The following article explains to Palm Harbor live-in caregivers about this strange correlation.
Relationship Between Eating and Stress
Though obesity may be physically noticeable, its cause is often due to mental difficulties. Many seniors equate food with comfort and reassurance, so they turn to calorie-laden snacks and meals when they are feeling worried or anxious. Using eating as a coping mechanism can quickly cause a senior with anxiety to become obese, which can further lead to other health issues for seniors with heart disease or who require Palm Harbor stroke care.
Anxiety Can Alter Fat Storage
Despite being an emotional disorder, anxiety mostly has physical effects due to the fact that regular anxiety causes levels of cortisol, the stress hormone, to skyrocket. High cortisol levels put the body into a sort of preservation mode, which causes the body to store fat around the waistline instead of burning it for energy. If a senior is living with long-term anxiety, his or her chances of becoming obese are quickly increased
Mental Effects of Obesity
Anxiety seems to lead to obesity, but it is also true that obesity can cause anxiety in kind. Unfortunately, many people look down on those who struggle with weight loss. This type of behavior can lead to a poor self-image and increased feelings of dejection. Over time, this can result in obese seniors developing anxiety disorders. Because of this, a recent National Epidemiologic Survey on Alcohol and Related Conditions found that obese people were 1.5 times as likely to develop anxiety disorders over time.
Anxiety Medications May Cause Weight Gain
A common side effect of anti-anxiety medications such as Xanax is weight gain, which is why some seniors may have trouble maintaining a healthy weight while treating their anxiety disorders with prescription drugs. Many anti-anxiety medications are also depressants that cause fatigue, and seniors can have difficulty exercising when they feel constantly exhausted.
With guidance from an experienced Clearwater Home Care provider, seniors can learn to manage both their diets and emotional disorders in the comfort of home. Home Care Assistance of Tampa Bay provides flexible live-in and hourly services that encourage seniors to maintain healthy diet, regular exercise and active social lives in an effort to boost longevity and vitality. Call (727) 330-7862 to speak with a friendly Care Manager and schedule a complimentary consultation today.