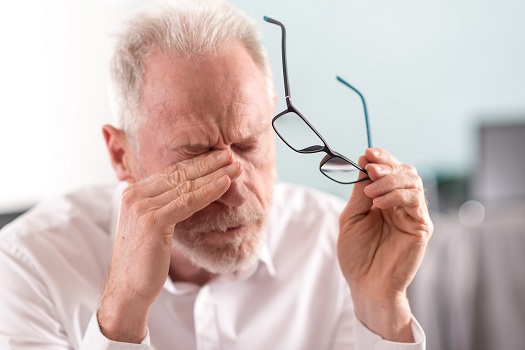 Fatigue affects people of all ages for different reasons, but it's not a normal part of aging. Fatigue in the elderly could be a sign of more serious issues. Here are some of the common causes of fatigue among seniors.
Stress
Stress could lead to high levels of anxiety and even depression. However, too much stress can easily lead to fatigue in the golden years. When stress turns into worry, it ultimately causes despair. To prevent your loved one from becoming stressed, make sure he or she gets plenty of exercise, eats healthy, stays socially engaged, and learns how to handle frustration about things he or she cannot control.
An aging adult with high energy levels is likely practicing a healthy lifestyle. If your elderly loved one needs help maintaining a high quality of life while aging in place, reach out to Home Care Assistance, a trusted provider of home care service. Our caregivers provide transportation to and from medical appointments and social events, nutritious meal preparation, assistance with daily exercise, and help with everyday tasks like bathing, grooming, and light housekeeping.
Poor Blood Circulation
When the blood vessels become blocked, seniors may experience limited blood flow to their feet, legs, hands, heart, and other areas of the body. An interruption in normal blood flow causes poor blood circulation, which could lead to fatigue due to a negative impact on the brain. To reduce the risk of poor blood circulation, your loved one should exercise regularly, follow a well-balanced diet, and stop smoking in addition to making other healthy lifestyle choices.
By making healthy lifestyle choices, seniors can remain independent for longer. Living independently is important for seniors who want to maintain a high quality of life. For some, this simply means receiving help with tasks that have become more challenging to manage over time. Even when families have the best intentions, they may not have the time to provide the care their elderly loved ones need and deserve. If your loved one needs help for a few hours a day or a few days a week, reach out to Home Care Assistance, a trusted provider of respite care Clearwater seniors can depend on.
Sleep Disorders
Chronic fatigue is caused by many health issues, including sleep disorders. A sleeping disorder could cause your loved one to be tired regardless of the time of day or night. Excessive daytime fatigue from a sleep disorder could lead to difficulty waking up in the morning, loss of appetite, and frequent napping. Maintaining a consistent sleep schedule, avoiding caffeine, getting regular exercise, and limiting alcohol consumption may treat most sleep disorders.
Chronic Inflammation
The loss of lean tissue and impaired immune function are two of the things your loved one may experience due to aging. This leads to chronic inflammatory conditions like rheumatoid arthritis and psoriasis, which can cause fatigue. Inflammation could make your loved one feel tired due to the infiltration of immune cells into the brain. Eating anti-inflammatory foods is one of the ways to prevent this from happening. Your loved one can also exercise regularly, get a good night's rest, and avoid products that increase his or her exposure to toxins, such as certain cleansers and personal care products.
Lung Disease
Seniors with lung disease experience reduced airflow in their lungs as well as decreased oxygen supply in their bodies. Changes in the oxygen supply lead to fatigue, among other health problems. Staying healthy and exercising can minimize the symptoms associated with lung disease. Positive lifestyle choices can also slow the progression of this disease.
There are a variety of age-related health conditions that can make it more challenging for seniors to live independently. However, many of the challenges they face can be easier to manage if their families opt for professional homecare. Clearwater families can rely on expertly trained caregivers to keep their loved ones safe and comfortable while aging in place. If you need professional home care for your loved one, Home Care Assistance is just a phone call away. Reach out to one of our Care Managers today at (727) 330-7862.