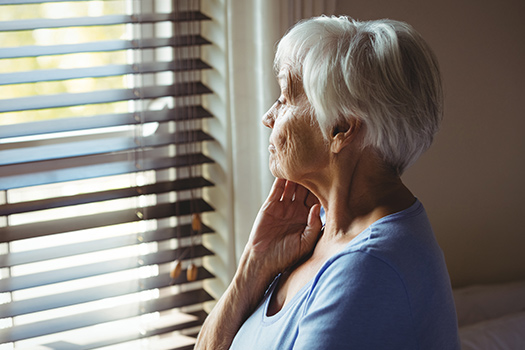 At first glance, the retirement years may seem peaceful, as seniors are finally free from the burdens associated with maintaining a career and raising a family. However, seniors still face stressors in their golden years that affect their wellbeing. Watch for these seven reasons seniors become stressed so you can protect your loved one's overall health.

1. Managing Health Concerns
It's common for people of every age to get worried about an upcoming medical test. However, seniors have reached an age when they know a serious health diagnosis could change their entire lives. Talk to your loved one about his or her health concerns, and find ways to be proactive about increasing his or her health, such as exercising more often.
Aging adults may need assistance with exercise and other forms of physical activity to manage stress. If your senior loved one needs hourly or live-in care, Palm Harbor Home Care Assistance can help. Our caregivers can assist with exercise and mobility, prepare nutritious meals, provide timely medication reminders, and help with a wide array of other important daily tasks.
2. Living on a Fixed Budget
Finances are another concern for seniors that can be managed with assistance. Help your loved one develop a budget that fits his or her current financial picture, and find ways to stay within this budget, such as making gifts for special occasions or shopping for sales.

3. Experiencing Loss
The senior years mark a significant period in a person's life when losses increase. Whether your loved one has recently lost a spouse or is experiencing a loss of identity after retirement, it is essential to take steps right away to help him or her manage these emotions. Make sure your loved one has someone to talk to throughout the day, such as a professional caregiver.
For families living in Palm Harbor, Florida, respite care can be a wonderful solution when their aging loved ones need companionship and socialization a few hours a week or just need minor assistance with daily household tasks. At Home Care Assistance, we thrive on helping seniors maintain their independence while living in the comfort of home.

4. Hearing Upsetting News
The news today is filled with stories about upsetting events throughout the world, and your loved one may also hear bad news from his or her social circle, such as a close friend being diagnosed with cancer. While this is an unavoidable part of life, you can help your loved one maintain focus by filling his or her day with positive events. Arrange to have a caregiver take your loved one for a walk in the park or to visit a favorite friend so he or she does not ruminate on bad news the entire day.

5. Worrying About Driving
Changes in your loved one's health may cause him or her to become stressed out about driving. Your loved one may be afraid to tell you that his or her vision or hearing has made driving a risky endeavor if it could mean losing his or her freedom. Tackle this difficult topic with compassion and understanding by asking your loved one if he or she would like a professional caregiver to provide transportation.

6. Facing New Challenges
Many things change over the senior years, and each day may bring another challenge that threatens your loved one's confidence about continuing to age in place. Whether your loved one can't open a jar or has difficulty getting into the bathtub, make sure he or she knows someone will always be there to help.

7. Fretting Over the Future
From stressing out about moving out of their homes to worrying about being dependent on their families, the future can be a major stressor for seniors. Help your loved one look forward to a bright future by talking about his or her care preferences. This way, your loved one gains a sense of control over how he or she ages in place along with selecting the people who will be responsible for his or her care.
Seniors who want to alleviate stress and enjoy a high quality of life can benefit from professional in-home care. When considering home care, Clearwater, families should make sure their senior loved ones have the resources they need to maintain their independence and remain healthy. Trusted in-home care professionals can assist seniors with daily tasks like cooking, bathing, and exercise, and they can also encourage them to focus on healthier lifestyle habits. If your elderly loved one needs high-quality in-home care, give Home Care Assistance a call at (727) 330-7862 today.