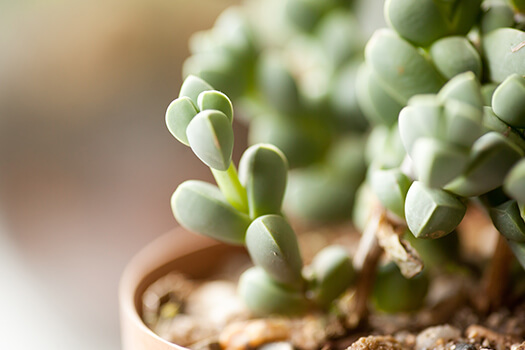 Seniors don't need to have a huge yard or sprawling piece of property to enjoy the many benefits of gardening. Hundreds of plant species can thrive inside a home as long as they are properly cared for. Here is a list of six indoor plants that are perfect for seniors who live in small homes or apartments. 

1. Spider Plant
This houseplant is quite recognizable due to its long and vibrant leaves. There are many different types of spider plants, and they are often hung from windows so the leaves can cascade over the sides of the pots. Spider plants can thrive as long as they get a little bit of sunlight every day and are watered at least once every few days. 
Caring for plants in a small home is a wonderful way to stay physically active and stave off diseases. Living alone at home in the golden years can present a few unique challenges. Trust in Clearwater Home Care professionals to help your senior loved one maintain a higher quality of life while he or she manages an illness and performs the daily tasks of living.

2. Peace Lily
Very few indoor plants are as popular as the peace lily, and many cultures believe these flowers bring luck into a home. With their dark green leaves and white petals, they can add color to any room. Peace lilies need to be kept in an area where they will receive indirect sunlight. To keep the petals and leaves healthy, the potting soil should be moist at all times. 

3. Aloe Vera
Seniors interested in keeping a few plants around the home should consider aloe vera. These succulents are extremely easy to keep alive, and they also have healing properties. Many companies make burn salves and topical pain relief creams from aloe vera gel. This plant doesn't need much water in its soil, but it should be kept near a window to get as much light as possible. 

4. Mint
If your loved one wants a plant that is beautiful as well as delicious, he or she should try planting some mint. These plants are extremely easy to care for, and once the roots have taken hold they are extremely difficult to kill. As the leaves grow larger, your loved one can pick a few off to throw in a cup of tea or ice water. 

Caring for a plant and performing other physical tasks around the house may be difficult for some older adults to accomplish. If your aging loved one needs occasional help with bathing, grooming, cooking, or other basic household tasks, or if you need time to attend to important personal matters, reach out to Home Care Assistance, a leading provider of live-in and respite care. Safety Harbor seniors can maintain their independence while living at home with the help of our reliable respite caregivers.
5. Amazon Elephant Ear
This plant continues to grow until the roots have no more room to spread. Amazon elephant ears kept in smaller pots in the home will only grow to be a few inches across, but outdoor plants often have much larger leaves. To mimic their natural habitat, your loved one should keep Amazon elephant ears out of direct sunlight and gently mist them with water a few times a day. 

6. African Violet
Seniors who are more interested in vibrant flowers might want to go with African violets. These beautiful flowers vary in color depending on their location, but most petals are bright purple or blue. African violets shouldn't be watered until the soil is completely dry, and the leaves can't get wet or spotting will occur.
With some encouragement and assistance, even older adults with limited mobility can enjoy caring for indoor plants. If your senior loved one needs hourly or live-in care, Safety Harbor Home Care Assistance can help. Our caregivers can assist with exercise and mobility, prepare nutritious meals, provide timely medication reminders, and help with a wide array of other important daily tasks. Call one of our professional Care Managers at (727) 330-7862 and create a comprehensive home care plan for your senior loved one.