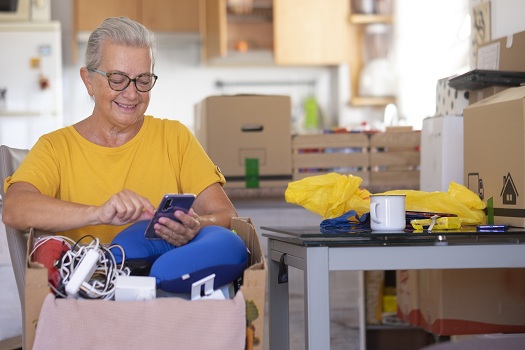 Downsizing helps seniors boost their quality of life at home by eliminating some of the clutter that weighs them down. Moving to a smaller house or apartment helps your aging loved one avoid having to do so much maintenance and cleaning. Removing unnecessary items also makes a living space safer. Supporting your loved one through the process of downsizing helps him or her complete goals and feel excited about having a new home.
1. Start by Identifying the Essentials
Seniors often have many things they would like to keep in the early stages of downsizing. Talk to your loved one about what he or she plans to take to the new home. You may also ask about his or her reasons for wanting to keep certain items to make sure they're truly essential. During this process, remember to practice empathy and give your loved one plenty of time to think things over. Your parent may need a few days to accept that certain items cannot go with him or her.
Downsizing can be an emotional experience for seniors, and it's important to make sure your loved one has the continued support he or she needs to remain happy and healthy. In Clearwater, senior care agencies can be a great boon to seniors. With the help of the caregivers at Home Care Assistance, your aging loved one can lead a happier and healthier life. We offer a revolutionary program called the Balanced Care Method, which encourages seniors to eat nutritious foods, exercise and socialize regularly, and focus on other lifestyle factors that increase life expectancy.
2. Protect Important Items & Paperwork
Once you start pulling things off shelves, it's easy to lose important items. Your loved one may need to temporarily rent a storage building to make sure heirlooms don't get broken or lost. A safety deposit box can serve as a safe place for your loved one to keep important documents until he or she has moved into the new home. Taking care of the things your loved one must keep can help him or her feel better about letting go of the items he or she no longer needs.
3. Check Out the New Home's Floor Plan
The floor plan of your loved one's new home can guide many of the decisions. For instance, your parent may love his or her current dining room table, but it might not fit into a smaller kitchen. Your parent may also need to eliminate other pieces of furniture, such as extra chairs. Letting your loved one see how larger items will fit into the new floor plan may change his or her mind about things he or she is trying to keep.
4. Eliminate Unnecessary Equipment & Appliances
Tools and other common pieces of household equipment are often bulky and easier to get rid of, since your loved one probably doesn't have an emotional attachment to them. If your loved one is moving to an apartment, he or she might not need lawn equipment. A smaller kitchen might also mean your loved one needs to minimize how many appliances he or she takes. 
Many older adults require assistance with various tasks, such as shopping for groceries and preparing healthy meals. Homecare services providers can benefit aging adults in a variety of ways. From cooking nutritious meals to offering timely medication reminders, the dedicated caregivers at Home Care Assistance are available to help your elderly loved one 24 hours a day, 7 days a week.
5. Declutter Closets & Cabinets
Seniors who have accumulated many things over the years likely have closets and other places in the home that are overflowing with things they no longer need. Sort through old clothing, knickknacks, and other items that might be outdated. Your loved one might also be ready to pare down his or her collection of dishes and tableware.
6. Decide How to Handle Unwanted Belongings
Taking action shortly after your loved one makes decisions prevents backtracking. Have your loved one identify whether each item should be donated, trashed, or sold. Then arrange for that to happen as soon as possible. Giving away items to people who could really use them can help your loved one feel better about downsizing the home.
If your loved one needs around-the-clock care because of Alzheimer's or dementia, consider hiring a caregiver to give you more time to devote to decluttering the home. There are a variety of reasons to consider professional dementia care. Clearwater dementia caregivers are available 24/7 to help seniors maintain better cognitive health, and they can also assist with various tasks like medication reminders, transportation to medical appointments, and nutritious meal preparation. If your loved one needs professional home care, Home Care Assistance is here to help. To hire a compassionate, dedicated caregiver, call us at (727) 330-7862 today.