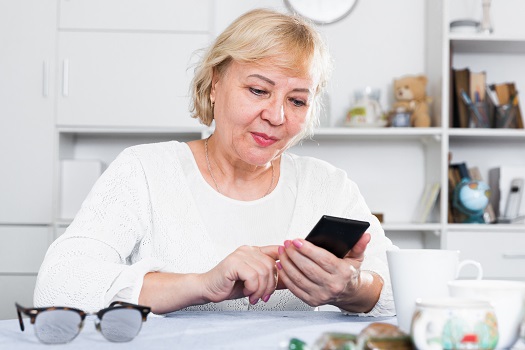 Aging adults with dementia now have access to a variety of mobile apps that can help them manage the symptoms of the disorder and enhance their quality of life. Some of these programs can keep them entertained and lift their spirits when they're feeling down. If your senior loved one has recently been diagnosed with dementia, you might want to suggest downloading these six apps.
1. Labyrinth 2 HD
This unique puzzle game is both challenging and relaxing, and your loved one is sure to enjoy it. The initial puzzles are very simple, but the game gets progressively harder as each level is mastered. Even though Labyrinth 2 HD works on smaller smartphones, the levels will be much easier to see on a larger screen.
2. Dementia Digital Diary
Figuring out dates and times can be difficult for some seniors with dementia, and there may come a point where your loved one can no longer figure out traditional clocks and calendars. Rather than focusing on dates and times, this app shows your loved one where the sun is in the sky and which events are coming up in the near future. You can even remotely add events as long as you have the app on your own phone. 
Seniors with dementia often need assistance with everyday activities so they can age in place in safety and comfort. If your senior loved one has been diagnosed with a serious condition and needs help with tasks like meal prep, transportation, bathing, and grooming, reach out to Home Care Assistance, a leading provider of home care Clearwater, FL, families can trust. We also offer comprehensive care for seniors with dementia, Alzheimer's, and Parkinson's.
3. MindMate
MindMate is an invaluable app for seniors with dementia and their caregivers. It features a variety of games designed to challenge cognitive skills. It also has a huge library filled with dementia-related journal entries and articles. As an added bonus, you can track your loved one's progress and see how well he or she is doing in each of the games. When you pay for the pro version, you can sync the same account across multiple devices.
4. Medisafe
Medication mishaps are extremely common, and you need to come up with a comprehensive system for tracking all your loved one's prescriptions. Medisafe is a robust medication-management app that has a wide range of useful features and tools. This app allows you to set pill reminders, track prescriptions, and send notifications when your loved one forgets to take medications. 
Seniors with dementia can live at home safely and optimize their quality of life with the help of a highly trained, experienced professional caregiver. If your senior loved one needs professional dementia care, Clearwater, FL, caregivers are available around the clock to provide the high-quality care he or she needs. Using the revolutionary Cognitive Therapeutics Method, dementia caregivers can help your loved one stay mentally engaged and delay the progression of the disease.
5. iFish Pond
iFish Pond lets you build and maintain your very own pond, and it's the perfect app for seniors with dementia who have anxiety. Once you've set up the pond, your loved one can add unique fish, install new design features, and plant beautiful greenery. This app even allows your loved one to interact with the fish by tapping the screen or moving the device around.
6. Colorfy
In addition to being a great way to relax, coloring also promotes mindfulness. With the Colorfy app, seniors can doodle on a blank page or add color to black-and-white images. The app also offers images of different famous paintings, which means your loved one can try his or her hand at copying some of the greatest masterpieces ever made.
If your loved one is living with dementia, having a trained professional caregiver close by can provide you and your family with much-needed peace of mind. Not every senior has the same care needs, which means they don't all need the same type of Home Care. Clearwater families can rely on Home Care Assistance to provide individualized care plans to meet your elderly loved one's unique care needs. Our holistic Balanced Care Method was designed to help seniors focus on healthy lifestyle habits such as eating nutritious foods, exercising regularly, and maintaining strong social ties, and our Cognitive Therapeutics Method offers mentally stimulating activities that can stave off cognitive decline and delay the onset of dementia. If you need professional home care for your aging loved one, our Care Managers are just a phone call away. Reach out to Home Care Assistance today at (727) 330-7862.