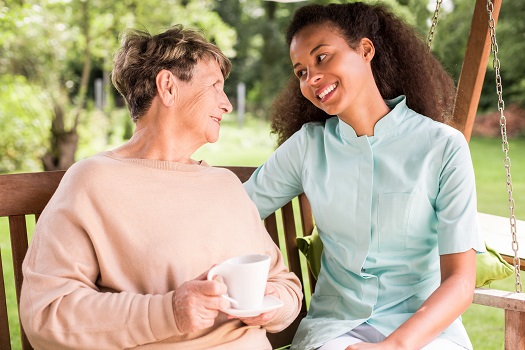 Family caregivers face monumental challenges as they work to help their aging loved ones stay healthy. Although it can be difficult to put on a brave face, caregivers who focus on staying positive can enjoy these benefits for their families.
1. Avoid Lashing Out at Others
Humans tend to act out their emotions. While you may think you're keeping your negative thoughts to yourself, they may eventually come out. Since the last thing you'd ever want to do is lash out at your loved one or another family member, it's better to focus on cultivating positive thoughts that shine through in your everyday responses to others. 
Caring for a senior loved one can be rewarding, but it can also be overwhelming for family caregivers who have other responsibilities they need to focus on. For these families, the perfect solution is respite care. Clearwater families rely on our caregivers whenever they need time to rest, work, run errands, and even go on vacation.
2. Preserve Family Relationships
Once negativity causes you to lash out, you might not be able to take back the things you said. Hurt feelings can linger for many years, even after you apologize. Choosing to stay positive can help you be ready to work out your differences in appropriate ways. While you might not agree with everything your family members do, you can find ways to reach a compromise.
3. Foster Good Communication
You need to be able to communicate with your loved one's other caregivers. However, negative thinking also affects how you communicate. For instance, you may find yourself balking at a physician's suggestion for treatment, or you may get frustrated when you feel as though you're doing more work than your siblings. A positive attitude can help you combat feelings of frustration and helplessness and choose positive words when addressing an issue.
4. Stay Aware of Potential New Treatments
Negativity also places you at risk for getting stuck in a rut. For example, you may stop researching your loved one's health condition because you feel as though progression through the illness is inevitable. Alternatively, you may decide it's easier to do things for your loved one rather than waiting for him or her to do them independently. A positive outlook can help you face these types of situations with a clear mind. When you hold hope for the future, you may explore all of the possibilities that exist for helping your loved one thrive despite illnesses or age-related changes.
Seniors can face a variety of age-related challenges. Though some families choose to take on the caregiving duties, there may come a time when they need a trusted Clearwater home care provider. Families sometimes need respite from their duties so they can focus on their other responsibilities, and some seniors need around-the-clock assistance that their families are not able to provide. Home Care Assistance is here to help.
5. Be Capable of Handling Change
Life as a caregiver can change on a whim, which could lead to caregiver burnout as well as depression and anxiety. A brighter perspective can allow you to navigate through life's challenges with a mindset that encourages you to find solutions. For instance, you might reach out to others for support if your loved one's health takes a turn for the worse and requires more care than you can give. Having a positive attitude that allows you to be flexible enough to adjust to rapidly changing circumstances is one of the best traits you can have as a caregiver.
Caring for a senior loved one can be challenging for families who don't have expertise or professional training in home care, but this challenge doesn't have to be faced alone. Family caregivers can turn to Clearwater Home Care Assistance for the help they need. We provide high-quality live-in and respite care as well as comprehensive Alzheimer's, dementia, stroke, and Parkinson's care. Call us at (727) 330-7862 to create a customized in-home care plan.