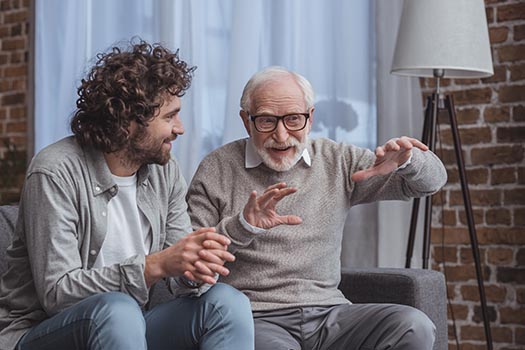 If you care for a senior loved one with dementia, he or she may behave aggressively at times. One minute your loved one seems calm, and the next minute you wonder what just happened. Even if you know to expect the unexpected, when a loved one has dementia, aggressive acts can still catch you by surprise. Don't give up hope. Consider the following as you seek ways to manage aggression in a senior with dementia.
Communicate Clearly
Individuals with dementia may misunderstand conversations or instructions. Telling your loved one to wash his or her face, get dressed, and come to the kitchen is an example of giving too much information at once. It may be difficult for your loved one to put all those instructions into a logical sequence, much less carry them out. As a result, he or she may become upset because of the inability to process information that seems overwhelming. Provide simple instructions that involve only one action, such as "It's time to put on your socks."
Symptoms such as agitation, confusion, anger, and frustration are common in elderly people with dementia. Dementia can be challenging for seniors to manage, but they can maintain a higher quality of life with the help of professional dementia care. Clearwater seniors can benefit greatly from the Cognitive Therapeutics Method (CTM), an activities-based program designed to promote cognitive health and delay the onset of dementia. CTM is included at no additional charge with any of the in-home care plans provided by Home Care Assistance.
Don't Respond with Aggression
It's easy to become frustrated and even angry when you're doing your best to care for a loved one who often responds with aggression. Step back and take a deep breath. Give your loved one space and time to calm down, and if that doesn't work, you may need to call an emergency service number. If this becomes necessary, let the first responders know your loved one has dementia.
Check for Physical Discomfort
Sometimes aggressive behavior may be in response to physical discomfort. Chronic pain and exhaustion due to lack of sleep are triggers that could result in aggressive behavior. If you think your loved one is deprived of sleep or in pain, consult with his or her healthcare provider to determine if medication or other interventions can help.
The cognitive challenges that accompany dementia often leave aging adults unable to manage everyday tasks, which puts their safety and health at risk. If your senior loved one has been diagnosed with a serious condition and needs help with tasks like meal prep, transportation, bathing, and grooming, reach out to Home Care Assistance, a leading provider of homecare services families can trust. We also offer comprehensive care for seniors with dementia, Alzheimer's, and Parkinson's.
Remove Environmental Stressors
Aggression can be a response to environmental stressors. A space that's too hot, too cold, or too noisy can stimulate aggressive behavior. A television that's too loud can be enough to upset a person with dementia. However, providing a comfortable and low-noise environment can have a calming effect.
Provide Distractions
It's not unusual for seniors with dementia to become confused about time and place. An individual who has moved in with family members may ask about going home. Dementia can also cause seniors to become confused about time. For example, they may think it's time for lunch right after they've eaten breakfast. They may confuse the past with the present. When these behaviors occur, avoid correcting your loved one, because it may agitate him or her further. Listening and gently redirecting your loved one to another activity, such as going for a walk, may help the situation.
Caring for a loved one with dementia is a challenging task for anyone. The responsibilities can sometimes feel overwhelming, but help is available. Seniors can face a variety of age-related challenges. Though some families choose to take on the caregiving duties, there may come a time when they need a trusted Clearwater Home Care provider. Families sometimes need respite from their duties so they can focus on their other responsibilities, and some seniors need around-the-clock assistance that their families are not able to provide. Home Care Assistance is here to help. To create a customized home care plan for your loved one, call Home Care Assistance at (727) 330-7862 today.