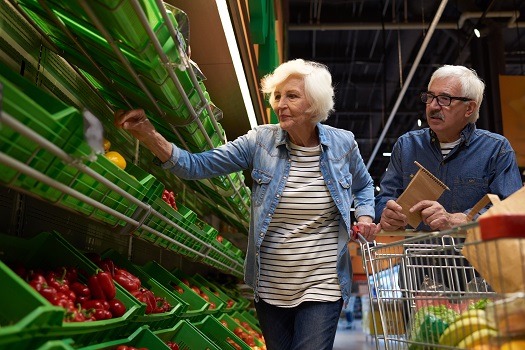 Purchasing healthy foods can keep your senior parent in good shape and stave off various health conditions, such as diabetes, heart disease, dementia, and arthritis. Having access to nutritious foods is the key to healthy eating. Take a look at some grocery shopping tips for your loved one.
1. Create a Shopping List
Going to the store without a list could cause your loved one to overspend on items he or she doesn't need. Sit down with your parent and determine which spices, meats, beverages, fruits, vegetables, snacks, and other items he or she needs to restock, and add them to the list. Staying within budget could reduce financial strain and prevent your loved one from going to the store without enough money to cover the grocery bill. Creating a list could also reduce the risk of forgetting essential items.
If your loved one needs assistance with planning healthy meals and grocery shopping, a home caregiver can be a wonderful resource. Clearwater in-home care experts are available to provide high-quality care to seniors on an as-needed basis. From assistance with mobility and exercise to providing transportation to the doctor's office and social events, there are a variety of ways professional caregivers can help your aging loved one continue to live independently.
2. Choose Stores Wisely
Larger grocery store chains typically offer more specials, such as "buy one, get one free" discounts. Most of these retailers also accept manufacturer coupons in addition to store-based discount codes that can be used with current deals. Your parent should look at the weekly ads for local stores to determine which ones have the best specials for the week. In some instances, your loved one might want to shop at two different stores to get the best prices for the items on his or her list.
3. Buy Frozen Foods
Going to the grocery store multiple times per week may not be possible for you or your loved one due to time constraints or limited transportation options. Look into purchasing frozen foods, which last longer. Make sure to avoid steam bag vegetables because the packaging is made with dangerous chemicals that could leach out when heated. Your loved one should try to purchase fresh meat and freeze it instead of buying ready-to-heat meals.
A home caregiver can help your loved one with a variety of everyday tasks, including grocery shopping. Living independently is important for seniors who want to maintain a high quality of life. For some, this simply means receiving help with tasks that have become more challenging over time. Even when families have the best intentions, they may not have the time to provide the care their elderly loved ones need and deserve. If your loved one needs help for a few hours a day or a few days a week, reach out to Home Care Assistance, a trusted provider of respite care Clearwater seniors can depend on.
4. Consider Grocery Delivery
If your parent is unable to drive due to health reasons and you can't take him or her to the grocery store, consider delivery options. Most stores offer a service that packs up the items and delivers them to a person's doorstep. Simply go over the meal prep list for the week, which includes healthy snacks and beverages, and place the items in your online shopping cart. You can show your parent how to use grocery delivery, but you should verify the purchases if he or she has dementia or another cognitive condition that prevents him or her from making sound decisions.
5. Shop on Discount Days
Some stores offer deals to seniors in addition to weekly specials and coupons. The senior citizen discount could be five or ten percent or even more, depending on the retailer. Your loved one should find out if local stores have discounted shopping days for seniors and make it a priority to shop on those days. The money saved on grocery bills could go toward other expenses, such as utilities, insurance, and medical supplies. 
If your elderly loved one needs help maintaining a high quality of life while aging in place, reach out to Home Care Assistance, a trusted provider of Clearwater Home Care. services Our caregivers provide transportation to and from medical appointments and social events, nutritious meal preparation, assistance with daily exercise, and help with everyday tasks like bathing, grooming, and light housekeeping. For more information about our flexible, customizable home care plans, call one of our compassionate Care Managers today at (727) 330-7862.