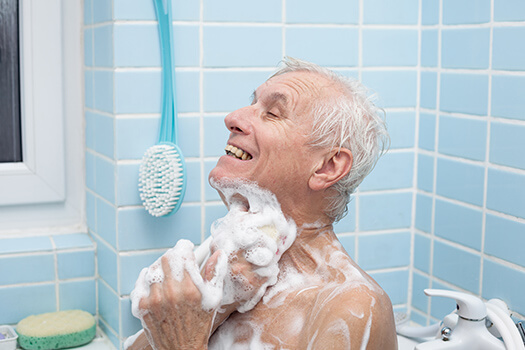 Hygiene is important for seniors because it prevents serious infections, sores, and illnesses. Proper grooming also keeps seniors feeling confident and happy. To make senior hygiene easier, you can follow a schedule that keeps you from forgetting anything important. If you are a caregiver, follow these steps to make sure your elderly loved one's hygiene is maintained even if he or she cannot do so independently. 

Take Care of Morning Grooming Needs
When your loved one wakes up, help him or her apply deodorant, get dressed, and comb his or her hair. After the morning meal, help your loved one brush his or her teeth. A proper tooth brushing regimen includes two minutes of brushing with toothpaste. If your loved one wears dentures, make sure to rinse off and brush the dentures after each meal.
Managing oral hygiene and other grooming tasks can become more challenging in the golden years. If your aging loved one requires help maintaining good hygiene habits, a professional caregiver can help. Maintaining a high quality of life can be challenging for some seniors, but professional caregivers can help them obtain this goal. Families can trust in Clearwater Home Care experts to help their elderly loved ones focus on lifestyle choices that increase the chances of living a longer and healthier life.

Manage Nighttime Hygiene Necessities
A nighttime hygiene routine may be a little longer for seniors. They will need to brush their teeth again, and dentists recommend following it up with a flossing session. Put your loved one's dentures into a soaking solution before bed. You may also need to apply moisturizer or medical creams if your loved one has skin conditions. 

Help with Bathing at Least Twice a Week 
Bathing is one of the most difficult tasks caregivers need to do, but luckily you may only need to help with this task a few times each week. Seniors who still have some independence may be able to do this on their own if you install anti-slip grips and grab bars in the bathroom. If you need to help your loved one bathe, use a gentle, fragrance-free soap and shampoo, and make sure to clean under all skin folds. After your loved one gets out of the water, gently pat his or her skin dry with a towel to prevent chafing. Apply a moisturizer because senior skin tends to be particularly dry.
If your senior loved one needs additional assistance with mobility or general safety when bathing, consider hiring a live-in caregiver. Living with a serious health condition can make it challenging for seniors to age in place. However, they can maintain a higher quality of life with the help of professional live-in care. Safety Harbor seniors can benefit from assistance with meal prep, bathing, transportation to the doctor's office, medication reminders, and much more.

Trim Nails Weekly
Do not forget to take care of your loved one's fingernails and toenails because this could lead to unpleasant ingrown nails or infections. Trim toenails in a straight, horizontal line, and trim fingernails in either a curved or flat line. After trimming, use a nail file to buff away sharp edges. Take this time to check for fungal infections that require immediate treatment.

Visit Professionals Regularly
Having regular checkups with hygiene professionals can be an important part of personal grooming. Your loved one should get a thorough teeth cleaning at least once every six months. You can also take your loved one to a hair salon for occasional trims. Some seniors may appreciate visits to a nail salon for manicures or pedicures. Make sure to pick a reputable establishment that is not likely to spread infections.
If your aging loved one needs occasional help with bathing, grooming, cooking, or other basic household tasks, or if you need time to attend to important personal matters, reach out to Home Care Assistance, a leading provider of live-in and respite care. Safety Harbor seniors can maintain their independence while living at home with the help of our reliable respite caregivers. If you need a professionally-trained caregiver for your aging loved one, contact us at (727) 330-7862 today.