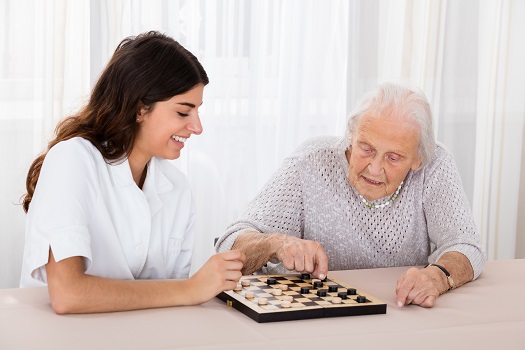 Whether spending time with family or friends, games are a great way to pass the time. There are many different games older adults might enjoy, and each also offers several enriching benefits.
1. Puzzle Books
Crosswords, Sudoku, and word search games are popular among seniors. Puzzle books are ideal for stimulating memory and problem-solving skills. Fine motor skills and the visual center are also stimulated in the brain. The combined effort also deters the development of cognitive impairment.
Seniors with cognitive impairment may find it challenging to perform daily tasks. If your aging loved one needs help managing everyday tasks or encouragement to adopt healthier lifestyle choices, turn to Home Care Assistance, a leading provider of home care. Clearwater Home Care Assistance provides professional in-home caregivers around the clock to help seniors live longer, happier, and healthier lives.
2. Name That Tune
Seniors can play this game individually or as teams pitted against each other. Choose song selections that were popular with the crowd back in the day, and have someone play three notes to a song. Add three more notes at a time until someone guesses the tune. Award points for each correct answer and a reward for the winning individuals or team. Playing Name That Tune is also a great way to initiate reminiscing, as the activity is designed to spark memory.
3. Memory Beach Ball
On each panel of the beach ball, write a different question that requires memory skills. Gather your loved one and his or her friends in a circle and toss the ball to one of the players. Whatever panel the designated index finger lands on is the question the current player must answer before passing the ball to someone else. The questions can be about childhood, current events, or simple trivia. Along with triggering memory, seniors get to exercise their upper bodies by catching and tossing the ball.
Some families may not have the time to regularly engage their loved ones in stimulating games. Family caregivers sometimes need a break from their caregiving responsibilities. When they need respite care, Clearwater families can rely on professional caregivers to help their senior loved ones remain safe at home.
4. Checkers or Chess
Both of these board games are popular with older adults. Along with visual stimulation, playing checkers or chess requires problem-solving and strategy skills. Families can set up tournaments between family members. A group of seniors can also have competitions among their friends.
5. Wii
This video console has a variety of games that are controlled using many different types of sensory input devices. Some of the popular games available for the unit include golf, tennis, and balance challenges. By playing a Wii game, seniors have the chance to get some low-impact exercise and range of motion activity that enhances balance and flexibility.
6. Find the Pin in the Oat Stack
Put dried oats in a big bowl along with dozens of small gold safety pins. Blindfold a player and allow him or her to find as many pins as possible, using the hands, within a designated time frame. The person who finds the most pins wins. This game challenges fine motor skills while providing tactile stimulation.
7. Pass the Parcel
Pass the Parcel is a deviation of musical chairs. Get enough small gifts for each person attending the event, and wrap each in a small box. Start some music and have the players quickly pass the box to each other. When the music stops, whoever is holding the box unwraps a layer of the box. The player who unwraps the last layer of the box wins and keeps the item.
By playing stimulating games, older adults can enhance their creativity and mental sharpness and maintain their overall health. Seniors who want to remain healthy as they age can benefit in a variety of ways when they receive professional Home Care Clearwater, Home Care Assistance is here to help your loved one accomplish daily tasks, prevent illness, and focus on living a healthier and more fulfilling life. To talk to one of our professional Care Managers, give us a call at (727) 330-7862 today.