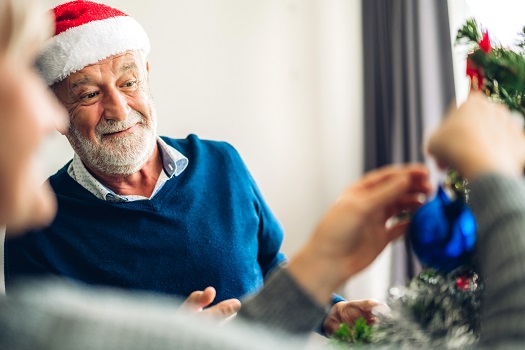 The holidays provide the perfect opportunity for seniors to spend time with their families while doing things that bring them joy. Aging adults can take advantage of outdoor festivals, crafting, and more, which can boost their cognitive health and overall wellbeing. Below are some fun Christmas activities for your senior loved one to try.
Decorating the House
Putting ornaments on the Christmas tree, hanging wreaths and stockings, and adding lights throughout the home can boost your loved one's mood and keep him or her busy. Decorating is an excellent activity for seniors because family caregivers can find purposeful tasks based on their loved one's abilities and limitations. For example, if your parent cannot stand for long periods, he or she can help you untangle the Christmas lights or choose where particular objects are placed in the home. Decorating can trigger pleasant memories in older adults with memory issues.
Every senior has different needs when aging in place. Some simply need occasional assistance with household chores, while others may be managing a serious illness and require more extensive live-in care. Clearwater seniors can count on Home Care Assistance to provide the in-home care they need and deserve.
Caroling
Singing is a great way to stimulate the mind because music memory is rarely affected by the aging process, even in seniors living with neurological conditions such as dementia. Your loved one can go caroling at local hospitals, children's centers, and town festivals. Singing also exercises the mouth and throat muscles, which makes it easier to chew and swallow. If there are no caroling opportunities in your community, find senior-friendly singing groups that host holiday concerts and sign your loved one up.
Creating Christmas Cards
Many seniors rely on family and friends for moral support as well as assistance with daily tasks. Aging adults can show appreciation for their family caregivers by making Christmas cards this year. Designing the cards exercises creativity and provides an alternative way to communicate feelings. Making cards is a crafting project that can reduce stress and strengthen the immune system. Provide your loved one with a safe space to work, and remove any dangerous tools.
Living alone at home in the golden years can present a few unique challenges. Trust Clearwater Home Care professionals to help your senior loved one maintain a higher quality of life while he or she manages an illness and performs the daily tasks of living.
Reading Christmas Stories
There are countless Christmas-themed short stories, poems, and novels seniors can read. Reading is a fun way for seniors to boost their memory and language skills while lowering the risk of sleeping disorders, chronic stress, and slow processing speeds. Take your parent to the local library to find classic holiday novels or choose new stories to enjoy.
Baking Holiday Treats
Making tree-shaped chocolate pretzels, Santa cookies, snowflake bars, and candy cane brownies is the perfect way to get your parent in the holiday spirit while boosting his or her physical health. Moving around in the kitchen can work out the muscles and alleviate joint pain. Using the cooking utensils can increase dexterity and make it easier to complete daily tasks, such as cleaning, washing clothes, bathing, and eating. 
Some aging adults have difficulty cooking and performing other activities of daily life safely, but help is available. Seniors can face a variety of challenges as they age, many of which can be mitigated with the help of professional in-home caregivers who provide high-quality homecare. Trust Home Care Assistance to help your elderly loved one age in place safely and comfortably. For compassionate, reliable in-home care, trust the experienced professionals from Home Care Assistance. Reach out to one of our dedicated Care Managers today at (727) 330-7862 to learn about the high quality of our in-home care services.