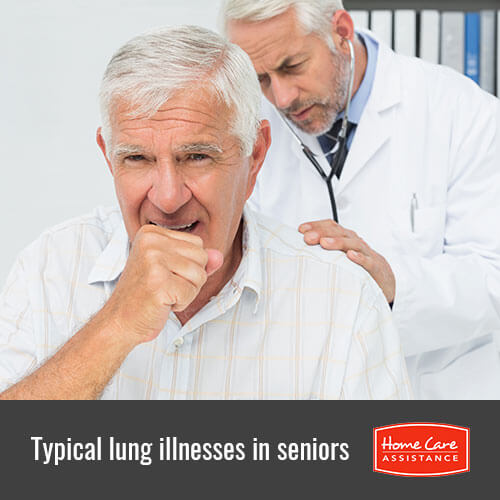 Almost one in seven older adults live with some sort of lung illness. As the population continues to age, this number is likely to get higher. Below are six of the most common lung illnesses that Safety Harbor live-in caregivers need to be aware of.

1. Bronchial Asthma

Airway hyper-reactivity to unspecified stimuli causes bronchial asthma. Some theorize that it is the most under diagnosed disease among the elderly. When diagnosed, it can usually be easily treated with medications and therapy.

2. Chronic Obstructive Pulmonary Disease (COPD)

COPD is an umbrella term used to describe a variety of lung ailments including emphysema, chronic bronchitis, refractory (non-reversible) asthma and bronchiectasis. Seniors who have COPD usually experience an ever-increasing shortness of breath, coughing, wheezing and tightness in the chest. Almost 30 million Americans have this disease with nearly 50 percent of them being undiagnosed.

3. Community-Acquired Pneumonia (CAP)

Clearwater Home Care professionals advise that CAP is a bacterial infection that is common in seniors. While seniors often experience high fevers, coughs and shortness of breath, it is confusing to doctors because the senior may also experience mental confusion and incontinence. Antibiotics often cure this disease without the senior having to be admitted to the hospital provided that treatment begins in time.

4. Pulmonary Embolism (PE)

PE is a condition where one or more arteries are blocked by a blood clot. Therefore, the senior may feel a sudden shortness of breath and chest pain similar to a heart attack. Usually, the blood clots start out in the legs before lodging itself in the lungs.

5. Sleep-Disordered Breathing

This disease is often diagnosed alongside sleep apnea. It is seen on a spectrum with slight daytime sleepiness on one end and wanting frequent daytime naps on the other end. Treatment may consist of treating allergies, although surgery may be needed in the more extreme cases.

6. Lung Cancer

Almost 80 percent of all people with lung cancer are diagnosed after they reach the age of 65. Part of the problem in diagnosing this disease that kills about 158,080 annually is that there may be no symptoms when the disease first starts. While doctors are often reluctant to start treatment in elderly patients, the outcome can be as positive as in other age groups when treatment is started early.
With Home Care Assistance, your loved one can enjoy the necessary independence and motivation to live with these and other illnesses. Contact a trusted Care Manager at (727) 330-7862 today to learn more about our specialized Safety Harbor stroke, Alzheimer's and dementia home care. We customize our client's care plans in order to meet their unique needs and boost their overall wellbeing.